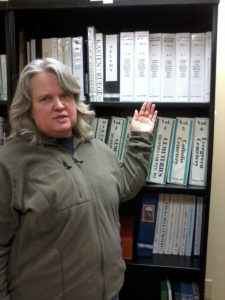 OCGS has established a Family History Room in the Suring Village Hall. Since the beginning of our existence, OCGS has been devoted to helping the community by providing valuable genealogical resources for all residents to use.  The resources are free to use but an appointment must be made to gain admittance to the room.  Donations are welcome to keep these resources available.
We are actively collecting books, yearbooks, atlases, and family histories, to name a few.
We also have collected scrapbooks, newspaper articles, etc., which can be searched by surname.
A member recently gave us quite a number of Looking Backward/Looking Back articles from the Oconto County Reporter.  Those have been indexed and are available online.
Some vital records from Suring are indexed on separate pages
Birth Records for Suring 1915-1943
Marriage Records for Suring 1915-1943
Death Records for Suring 1915-1946
Burial Permits for Suring 1940-1986